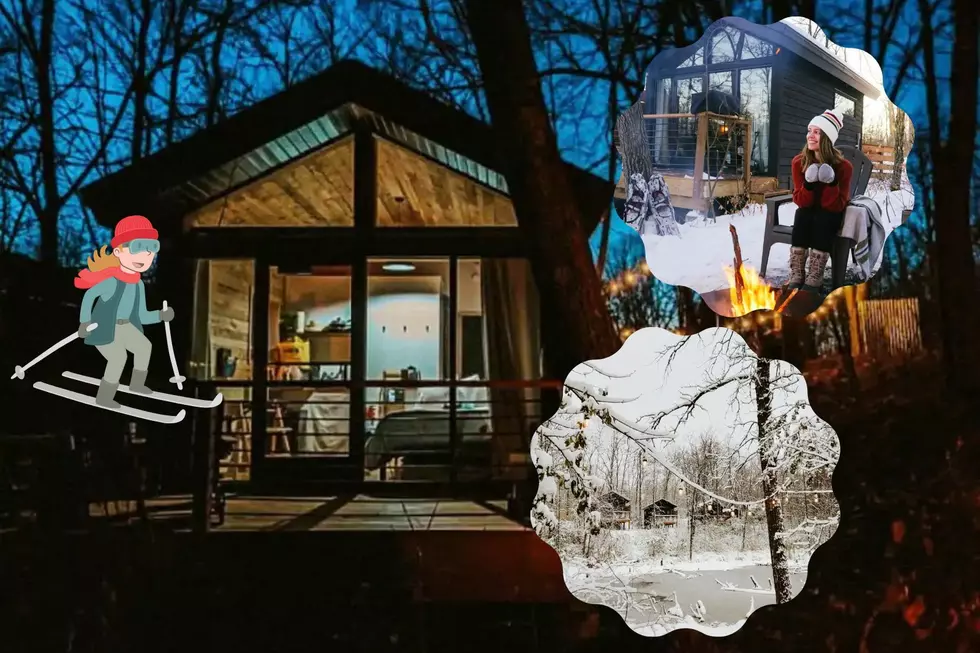 Cozy Midwestern Cabin is Perfect for a Winter Wonderland Getaway
Courtesy of Kelsey & Chris via Airbnb and Canva
Being in Michigan, I would imagine that some people are very interested in going somewhere warmer for the winter season. Hence the term, "snowbirds", for all those people who "fly south" for the winter.
However, not everyone may feel this way. There are many people who adore winter, which is one of the reasons they love living in Michigan. If you fall into this winter-loving category and are looking for a bit of a getaway, take a look at this adorably cozy cabin in Crosby, Minnesota.
Cozy Cabin on Airbnb
I came across this Midwestern cabin getaway on Instagram and it was so lovely, I had to get a closer look. Welcome to Acro Cabin at Cuyuna Cove in Crosby, Minnesota, hosted by Kelsey and Chris.
I was able to get a closer look on Airbnb, and boy and I dreaming about a winter getaway right about now.
The cabin is a cute and cozy space for two to enjoy. The sleeping space has a floor-to-ceiling window, which allows for some of the most gorgeous views you've ever seen. And if you're one for winter recreation, like snowshoeing, skiing, and hiking, this is the right place for you.
Maybe hiking around in the snow isn't for you, that's totally okay. You can snuggle up on the bed or next to the firepit with your hot chocolate. Or better yet, take a break to rest and relax in the on-site sauna.
Regardless of your preferred winter activities, this cabin could be the perfect place for a little getaway. Take a closer look at the pictures below.
Cozy Midwestern Cabin is Perfect for a Winter Wonderland Getaway
This cozy Midwestern cabin is what winter dreams are made of. If you enjoy winter activities like snowshoeing, skiing, or hiking, this Minnesotan getaway could be the perfect place for a vacation. The cabin has gorgeous views, a private firepit area, a sauna, and wifi. It feels like a whole world away while being just minutes from town. Check out the pictures below and see if you'd like to book some winter wonderland time in Minnesota.
20 Unique Northern Michigan Airbnbs Perfect for a Getaway
If you're in need of a little rest and relaxation, look no further than the great state of Michigan! Northern Michigan is the perfect place for a vacation. Check out these 20 stunning & unique Airbnbs and start packing your bags for a getaway.
This Stunning Northern Michigan Log Cabin is Available on Airbnb
If you find yourself needing a vacation, a little break from reality, you can always turn to our great state of Michigan. The Mitten State is so multifaceted that you can drive even just a couple of hours away and feel like you're in a completely different place than you were. For instance, a quick drive to Traverse City will have you enjoying a Pure Michigan type of vacation inside this gorgeous log cabin from the 1940s. Check out this chalet that you can rent from Airbnb located in Traverse City. It has all the charm of an old-school cabin with all the amenities of modern life. You can stay in and cuddle up by the fireplace, you can take a dip in the private hot tub, can walk down to the nearby beach, go shopping in the Downtown district, and so much more. Talk a look through this stunning cabin and just imagine your relaxing vacation there.
More From The Game 730 WVFN-AM