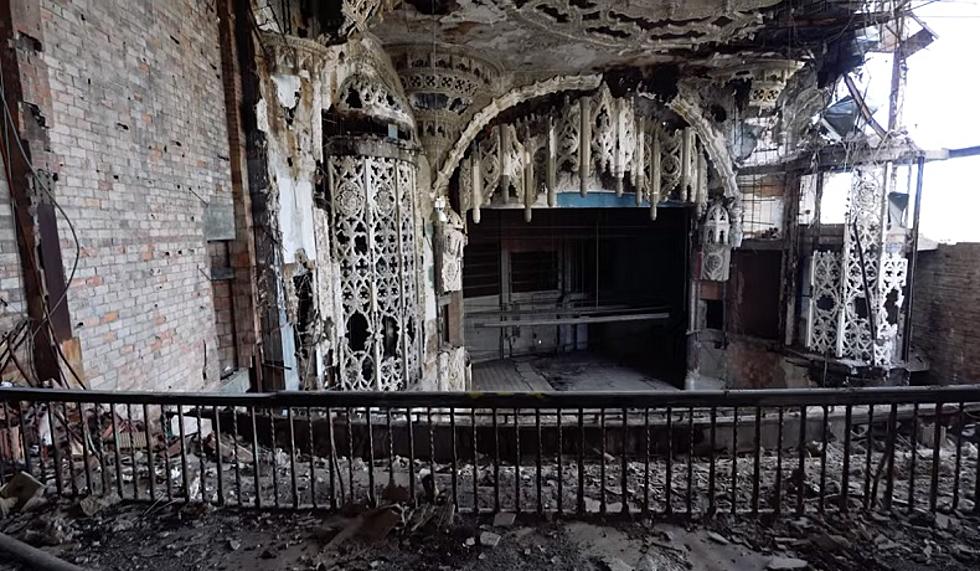 The United Artists Theatre: A Look Inside After Being Abandoned for 50 Years: Detroit, Michigan
Abandoned Central, youtube
HOLY COW…this was one extravagant movie palace back in the day…and it was considered the "baby" of Detroit's grandest movie theaters, which included the Capitol, Fox, Michigan, and State. The United Artists Theatre was designed in 1927 with Spanish Gothic and Art Deco styles.
FAST FACTS:
2,070 seats
18 stories tall
200,000 square feet
18-by-22-foot screen
35 cents matinee, 65 cents evening
Premiered "Gone With the Wind" in 1939
Cost: $5 million ($63 million in the 2000s)
First Detroit theater to use Cinemascope, 1953
Circular lobby with mirrors and Indian maidens
Eight-story tall, 7-foot wide 'United Artists' marquee
First to use 70-millimeter film, 1956 (with the movie "Oklahoma!")
The point of the United Artists theater was to exclusively show United Artists movies. The theater opened for business on February 3, 1928, with the Gloria Swanson film Sadie Thompson. Before the show started, Swanson herself greeted the audience remotely by using a telephone hooked up to the auditorium speakers.
By 1969, the theater's business was so bad, they closed in January 1970 and re-opened a week later. Someone came up with the 'brilliant' idea that porn flicks would bring in customers. That petered out the following month, and they started showing regular films again.
In 1971, they returned to the porn flick idea. They even turned into a grindhouse with slasher, gore, and horror movies. Still the customers stayed away and they closed again on September 14, 1971. Three months later they tried again with the double feature She Freaks and Dr. Jekyll and Sister Hyde. That, too, failed and the United Artists Theatre closed for good one week later.
FASTER FACTS:
1975: All the artwork, fixtures, and furnishings were auctioned off
2001: The Detroit City Council ordered demolition for 2001
2017: Plans to turn it into residential units were announced
2022: Demolition began
On November 30, 2022, demolition was completed as the last of the theater collapsed. The last forty years had taken its toll: from porn to final destruction of a once-grand movie palace where ordinary people could mingle with the rich…and feel like one, too.
Now see images in the gallery below of what it looked like - days before the final demolition...
Abandoned United Artists Theatre, Detroit (now demolished)
MORE MICHIGAN THEATERS:
Jackson's Michigan Theatre
The Midget Theatre: Dayton, Ohio
Purple Rose Theatre