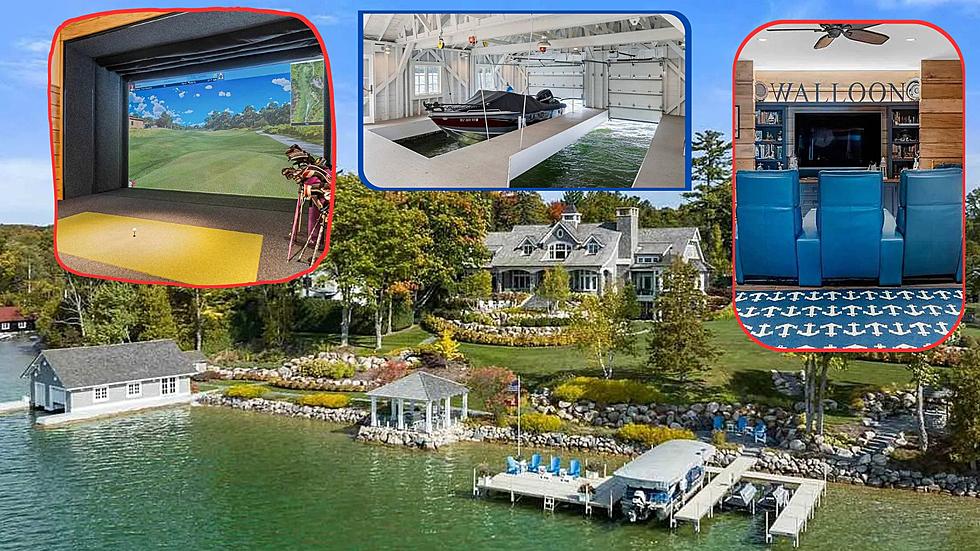 See The Most Expensive Home You Can Buy in Michigan Right Now
Zillow/Sotheby's International Realty
Michigan may not be as opulent as Los Angeles, or even New York city, Miami, and Chicago... but this state DOES have some pretty big homes that could be part of the "Lifestyles of the Rich and Famous" with Robin Leach.
Case and point, this home for sale up north, RIGHT now, could be yours for the INCREDIBLY high price of just $18 million. In fact, it is the most expensive home you could buy right now (as of July of 2023) in the state of Michigan.
Truth be told, for $18 million, you're really getting a lot more than just a home Up North in Petoskey. This house comes with it's own lake-front views on Lake Walloon, and comes with it's own two-boat garage, gazebo, and private dock.
But the home itself is where it's at. More than 14,000 sqft, 4 full bedrooms, 7 baths, and almost any kind of entertainment you might need in the home. If you're a golfer, it has its own golf simulator inside, a home theater, and entertainment room with shuffleboard table.
And if you're a chef, and love a big kitchen, you're in luck... because it's massive. Copper crafted sinks, hidden appliances, twin ovens, a MASSIVE range, and for the outdoorsman, a grill that puts all other grills to shame.
For entertaining, dozens of lounging and formal rooms to relax in, or how about a full bar? You can also take them out on your own private gazebo on the lake, next to your private dock to get out of the house, and soak up a little Vitamin D.
Seriously, this home has all you'd ever need to live a lifestyle of the Rich and famous. Take a look at the gallery below, and just... dream with me about living the life of luxury.
See the Most Expensive Home You Can Buy in Michigan
Look Hard for this Camouflaged Home in Grand Junction, Michigan
This place is John Cena's Dream, because you can't see it... unless you're right on top of it.