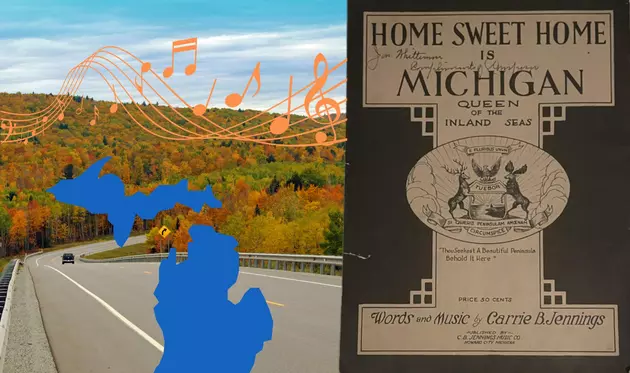 Is There A Long-Lost State Song For Michigan?
Betsy A Houghton Klingensmith/ Canva
Growing up in Michigan it seems that there are quite a few songs. You have to learn as a kid. I recall in elementary school learning the fight song for U of M, Michigan State, Ohio State, and Notre Dame. Then we moved up to middle school where we would sing 50 nifty United States. Thanks to that song I can literally remember every single state in the country.
But another song that we would learn in middle school was Michigan, My Michigan. This is the official state song of Michigan and has been for a long time, with lyrics that literally do not stop talking about the state. But it turns out there may be another song that was written all the way back in 1929, whose words and music were written by Carrie B. Jennings that MAY be the original state song.
Unfortunately I can't seem to find anything about this song. I can't find the music or the lyrics and the song is called Home Sweet Home is Michigan: Queen of the Inland Seas. How is it that somebody who is first responsible for writing Michigan's state song has zero information online?
Has anybody heard or have a link to where we can hear this song? if so, it's possible that we could have a new state song, but we won't know until we hear it.
Personally, I'd love to see this sheet music played out with the lyrics sung, and if it's better than Michigan, My Michigan, our current state song, I say we replace it.
Six 19th Century Bridges in Michigan Still in Use
Most Drawn Michigan Powerball Numbers
If you're trying to hit the jackpot, here are your best odds.