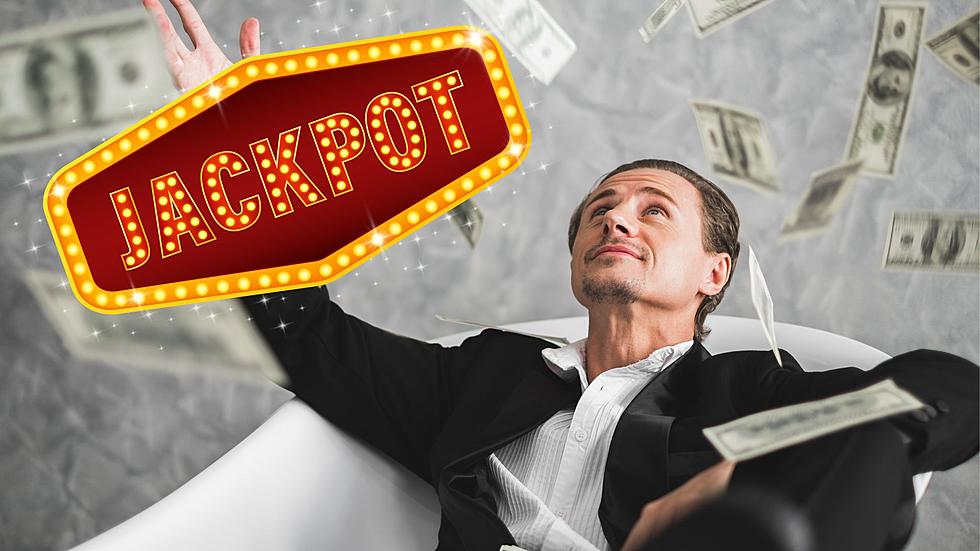 What Could A $1 Billion Jackpot Buy You In Michigan?
Canva
We're now in the midst of the third-largest ever jackpot in Powerball history. A drawing Tuesday Night has the potential to put $1 billion in someone's pockets (before taxes, of course), and make some people VERY rich, and set for life!
But what could you REALLY buy with $1 billion in Michigan? The answer is... some pretty cool stuff.
After taxes, the cash value of the $1 billion Powerball Jackpot is somewhere just north of $500 million ($518.6 Million to be exact). But to make things simpler, we'll round it down to $500 million, and you can just put the extra $16.8 million in a savings account for a rainy day or something.
So what could you get if you won the grand prize of the Powerball lottery? Well, let's break out the calculators and do some math.
---
Homes
Of course, you're going to need a home upgrade if you hit the lottery jackpot. You can't be a Hundred-Millionaire and still live in a two-bedroom townhouse in Battle Creek (nothing against Battle Creek, of course). You gotta live that life of luxury, and maybe even get a place Up North, too.
Looking through the largest Zillow listings in Michigan, and sparing no expense, you should have NO problem picking up the two most expensive homes Up North, AND further south in the Detroit Area.
Up North, there's an $18M home for sale in Petoskey with 4 bedrooms, 7 baths, and 14,636 sq. ft, complete with your own indoor virtual golf setup, home gym, movie room, Steam and Sauna room, three-car garage, all overlooking the Bear River! And oh, by the way, it has it's own two-boat garage, too.
So, that's your Summer home.
As for the winter, when you wanna stay a LITTLE warmer, there's a 7-bedroom, 11-bath Mansion in Bloomfield Hills, near Detroit, for sale at the LOW low price of $9.999M. Slightly smaller than your Up North Home at 12,204 sq feet, but the kitchen appliances all have gold-plated handles and accessories.
It was also built in 1938 by the same people who built the Cathedral of St. John the Divine in New York.
Up North Summer Mansion: $18 MIllion
Southern Michigan Home: $9.9 Million
Total Cost: $27.9 Million
Leftover from $1B Jackpot: $972,100,000
Leftover from $500M Cash Prize: $472,100,000
---
CARS
Of course, you have to get some Michigan Muscle for your new garage.
Ford recently unveiled the 2024 Mustang, with four versions. The baseline starts at just over $30,000, but we just won the lottery. We want to go big. So, the 500-horsepower, range-topping Dark Horse edition is the way to go, coming in at just under $56,000.
Why would you want to buy multiples of one car? Well, because you could own one in all the colors. Collect them like infinity stones. And you could collect a LOT of them.
Dark Horse Mustang: $56,000
$1 Billion Jackpot: 17,857 Mustangs
$500 M Cash Prize: 8,928 Mustangs
Likewise, another Motor City Muscle Car, the Chevy Corvette, is gonna set you back a little more. The BASE model is worth more than the top-end Mustang at just over $60,000. But, once again, we just won the lottery, and like Dr. Hammond says in Jurassic Park...
Spare No Expense!
3LZ Convertible Corvette: $130,000
$1 Billion Jackpot: 7,692 Corvettes
$500 M Cash Prize: 3,846 Corvettes
---
Sports
Now we're set with our home, and our new rides, we gotta think about some entertainment, and SPORTS teams are definitely the way to go.
Now, you might be able to pay a few contracts, and extend a few players' deals with the Lions. But, unfortunately, owning an entire major Michigan sports franchise is out of the question. The Lions are worth $3 Billion, the Red Wings are worth between $1.5, and $2 Billion, and the Pistons  are JUST out of reach at $1.82 Billion.
HOWEVER, you could at least be PART owner of at least one pro team in the state, AND be co-owner with a legend!
Back in 2020, Detroit City FC soccer team allowed the public to buy shares into the team, and have equity stake in the team. Three years ago, the buy-in was a minimum of $215. And a BONUS if you DID buy in, you'd be part owner alongside rock legend Iggy Pop, who is listed as the lead investor!
So how many shares in the team could you buy with your Lottery winnings?
Detroit City FC Share: $215 (2020 price)
$1 billion Jackpot: 4,651,162 Shares
$500M Cash Prize: 2,325,581 Shares
You might even get a free scarf out of the deal!
So what would YOU do with your winnings if you hit the jackpot?
Here Are The Winningest Numbers To Pick For The Michigan Lottery
Now granted, these are the best numbers as of the listed date, but it's important to at least know the trends...
These Are the Places That Have Sold Million-Dollar Michigan Lottery Tix in 2023
From scratchers to state lotto games to the national lotteries, Michigan's got 16 new millionaires so far in 2023 thanks to the Michigan Lottery. Here are the stores that sold those winning tickets.
More From The Game 730 WVFN-AM