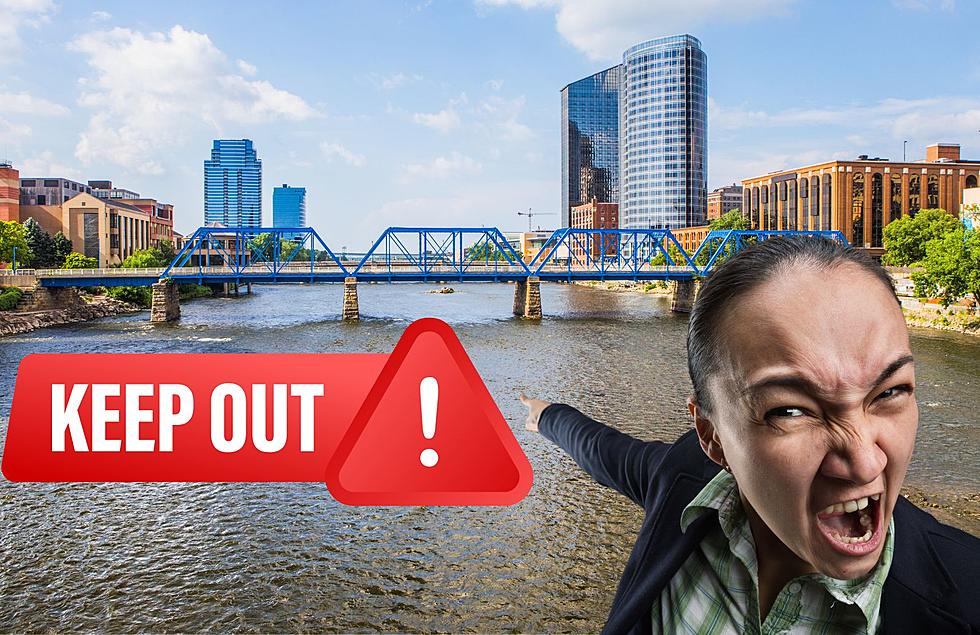 10 Reasons Not To Move To Grand Rapids
Credit: Canva
I grew up in Howell which is about 40 miles East of Grand Rapids.
For whatever reason my parents never took me West of Lansing to the awesome city of Grand Rapids.
When I moved here in 2007 it was for my first full-time radio gig.
I was blown away at how beautiful Grand Rapids and West Michigan was.
But Apparently, not everyone feels the same way.
10 Reasons Not To Move To Grand Rapids
While watching videos on YouTube I stumbled onto a very popular YouTube channel called "World According To Briggs". The channels description says:
This is an educational and entertainment channel that focuses on relocation, real estate, and travel. If you learn something and are entertained we have done our job.
In the 12-minute video they highlighted why you might not want to live in Grand Rapids, complaints locals have, and things you might want to know before you move to Grand Rapids.
They pointed out that 54% of roads in Grand Rapids are considered to be in poor condition.
They say that in the Grand Rapids Metro, there are 15 colleges some public and some private.
Sometimes in college towns, things can get out of hand with partying but thankfully Grand Rapids is pretty tame compared to what can happen in Lansing after a MSU Football loss.
In Grand Rapids, at least half the renters spend 33% of their income on rent, the national average is only 15%.
They point out that during the 2020 census, the city gained 24,000 residents bringing the city to over 200,000 people which affects the cost of living, available jobs, and rent prices.
In 2019 there were over 22,000 crashes in Grand Rapids. The city's most dangerous intersection was state highway 131 and Wealthy Street.
The record for snowfall in Grand Rapids is 132 inches back in 1951-1952.
Grand Rapids is also one of the snowiest places in the U.S. getting on average 65 inches a year, the U.S. average is only 28 inches.
They point out that the city of Grand Rapids is very spread out and doesn't have a very good walking score landing somewhere in the bottom 20-25 spot out of 300 cities.
The violent crime rate in Grand Rapids is 72% high than the national average.
They point out that the city of Grand Rapids gets its name from the Grand River and the Rapids that used to be here.
There are over 800 homeless people in the greater Grand Rapids area. More than half of those are families with children.
After watching the entire video I have to agree with a lot of the things he pointed out as being things that need to be improved in Grand Rapids.
Even with all of these reasons to not move to Grand Rapids, I still think Grand Rapids is an excellent place to live and have a family.
But we should take a look at our city and work on addressing these issues.
Grand Rapids is known as the "River City", "Beer City" and "Furniture City"
but did you know all of the other things our city and state are known and famous for?
25 Things Michigan Is Known And Famous For
Michigan is known as the Motor City and is home to Motown. But that just scratches the surface of what the Mitten state is known and famous for.
These 9 Lazy Rivers Are Perfect For A Hot Michigan Summer
Summertime in Michigan is filled with endless possibilities of how you can have fun outdoors. One of the most relaxing ways to have fun is to go tubing down a river in Michigan. These are 9 lazy rivers that are perfect for a hot Michigan summer.
Bring Your Pet And Enjoy These 20 Pet Friendly Michigan Beaches
There is no need to leave your pet behind. Check out these 20 pet-friendly beaches in Michigan all summer long.
More From The Game 730 WVFN-AM