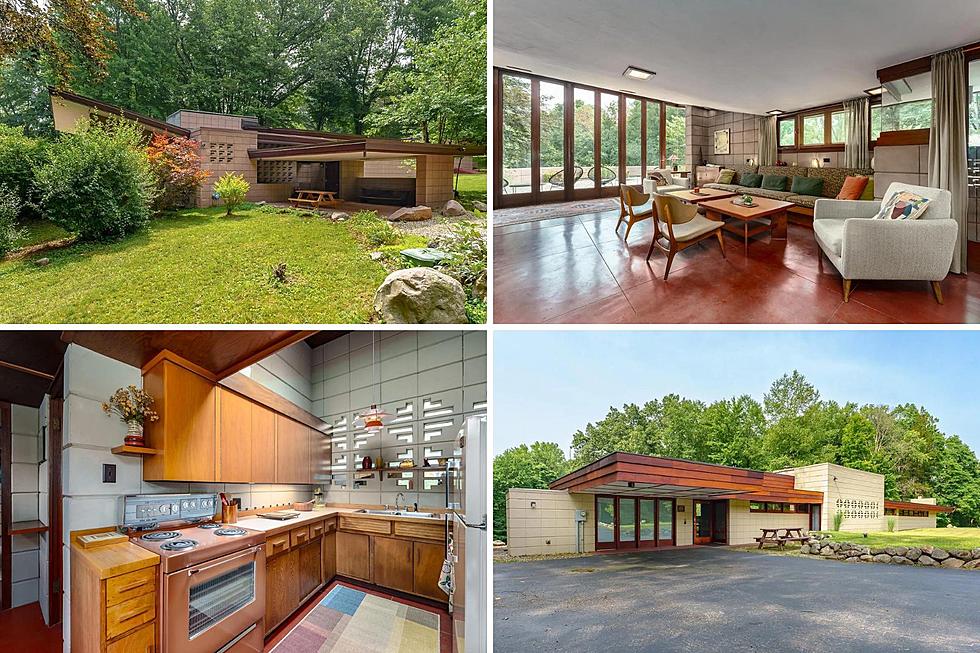 Love MCM? Two Frank Lloyd Wright Houses For Sale Together in West Michigan
Victoria Krause Schutte, Christie's International
It's a mid-century modern dream! Not one, but two Frank Lloyd Wright homes have hit the market in West Michigan.
Often called "the most famous American architect" Frank Llloyd Wright designed some of the most iconic buildings in the world. Born in Wisconsin in 1887, Wright designed more than 1,000 1,architectural works of all types, 532 of which were built, before his passing in 1959.
The pair of houses for sale in Galesburg, Mich. were designed by Wright and constructed by the original homeowners, under the supervision of Wright himself, in 1951 and 1953.
This is the first time in history of Frank Lloyd Wright architecture that two neighboring homes been offered, together, in one sale -- the Samuel & Dorothy Eppstein and the Eric & Pat Pratt homes.
The residences are nestled in a prestigious community in Galesburg known as "The Acres".
According to the listing,
These homes are historic works of art and have retained their original footprints. They exemplify Wright's signature design principles, seamlessly blending nature, form, and function...  Both the Eppstein and Pratt houses are stunning representations of Wright's Usonian vision and beautiful examples of mid-century architecture
One home has three-bedrooms, two-bathrooms, and is 2,250 square feet. The is a four-bedroom, two-bathroom, 2,23a square-foot residence.
Both are described as "gracious", "welcoming", and "peaceful".
In both you'll find stunning floor to ceiling windows and lovely outdoor spaces.
According to Crain's Grand Rapids, a couple who are originally from the Netherlands purchased the first home in 2016 and took it on as a restoration project. They loved it so much, a few years later they bought the home next door.
One of the owners, Marika Broere, tells Crain's Grand Rapids,
It was important to us to make everything look original again.
Many original touches remain, like red concrete floors, mahogany, and textile blocks patterned with window cutouts.
Take a tour and check out the price below!
Two Frank Lloyd Wright Homes For Sale Together in Galesburg, Mich.
Two homes designed by famous architect Frank Lloyd Wright in the early 1950s have
hit the market
together in Galesburg for $4,500,000.
There's a New Most Expensive Home for Sale in Grand Rapids Mich. Area