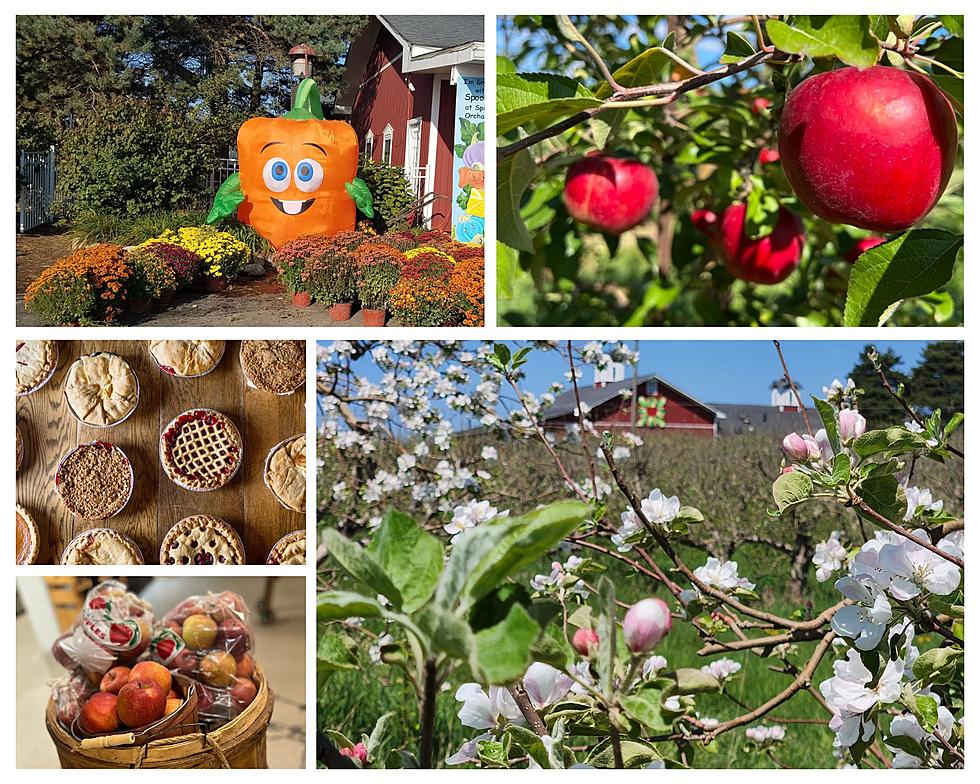 Two Michigan Apple Orchards Named Among Ten Best in the Entire Country
Crane Orchards/ Spicer Orchards, Facebook
Even though I'm a die-hard summer-lover (It's not over yet! Fall doesn't officially start until Sept. 23!), I have to admit there are some things about fall that aren't so bad... Apple picking is one them!
Growing up in Southwest Michigan, it was a fall tradition in my family to head to an orchard (usually Crane Orchards or Jollay) to pick some apples, go on a hayride, and of course, stuff our faces with yummy cider donuts!
While I'm glad to see at least two Michigan orchards ranked among the top ten in a USA Today's 10 Best Reader's  Poll, I think there should be a whole lot more!
A panel of experts chose twenty of the top orchards in the country, and then it was put up to a public vote. Which Michigan orchards made the top ten?
Spicer Orchards in Fenton - No. 7
Here's USA Today's praise for the metro-Flint-area orchard,
At Spicer Orchards, wagons take visitors into the orchards to pick apples and berries. The fall season also means hot apple cider and cider donuts, wine tastings and a children's playground. A Harvest Festival in mid-September features a craft fair and antique tractors.
I particularly love the wine-tasting aspect. I've not been, but it sounds like a cool place!
Spicer Orchards also grows raspberries, strawberries, cherries, and more!
Next up is one of my favorites growing up!
Crane Orchards in Fennville - No. 8
Here's what USA Today says about Crane Orchards,
The tiny city of Fennville, Michigan has served as home base for Crane Orchards since the 19th century, with operations dating back to the 1880s. Now on their sixth generation of farmers, the property earns abundant local acclaim, thanks to their on-site restaurant and pie shop. The fall season brings the opportunity for apple picking alongside corn mazes, hayrides, and a kids' cow train.
In addition to the orchard, there's also Crane's Winery Pie Pantry Restaurant and Winery.
Top 8 Apple Orchards Near Grand Rapids
It's apple-picking time! Where's your favorite farm to visit for fall activities? According to
Yelp
, these are the top eight orchards near Grand Rapids to pick up apples, and maybe even go on a hayride, visit a corn maze, and snack on delicious cider donuts!
8 Delicious Fall Destinations for U-Pick Apples, Cider and Donuts in the Kalamazoo Area
Get your fall favorites direct from the farm at these 8 Kalamazoo-area orchards
Best Places To Pick Apples This Fall In The Lansing Area
Eating healthy isn't always fun. However, it could be a bit more fun if you go out and pick the fruit yourself? Check out these places you could go out and pick apples yourself this fall to munch on.