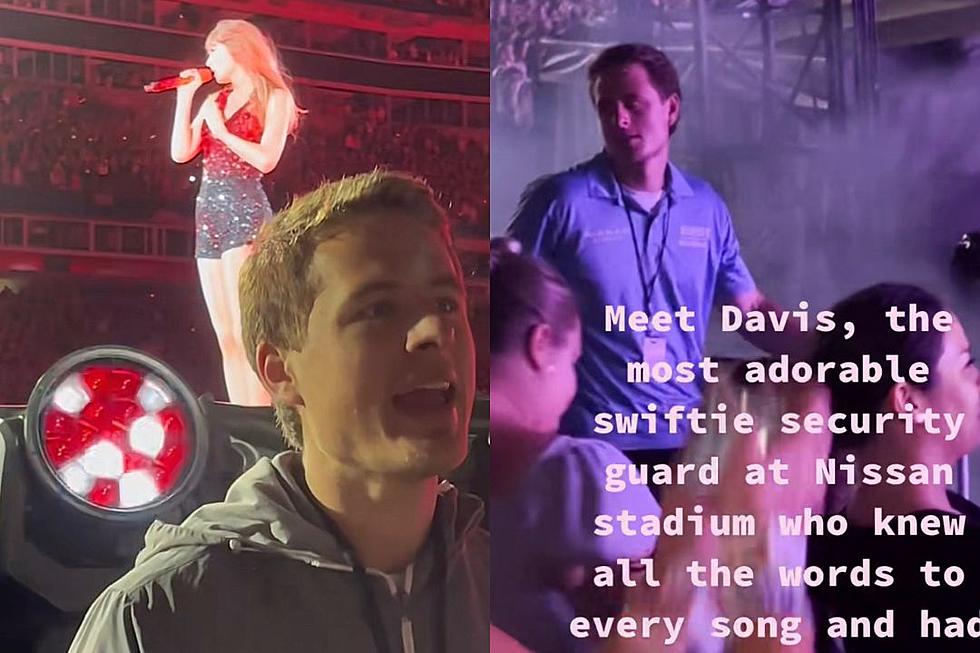 Taylor Swift Fan Becomes Security Guard to Get Into Eras Tour Concert
@sobaditsgoodwithryanb / @allthingsalison via TikTok
A security guard from Nashville's Nissan Stadium who went viral on TikTok for singing along to all of Taylor Swift's songs has revealed that becoming a security guard was actually part of his backup plan for attending the concert.
According to Nashville's NewsChannel 5, Davis Perrigo was unable to snag tickets to Swift's highly-anticipated Eras Tour, so he took matters into his own hands.
Swift brought her show to Nashville for three nights at Nissan Stadium in early May, and Perrigo — who works as an accountant by day — was determined to go despite his bad luck with purchasing tickets.
So, he decided to apply for a security guard position in hopes of seeing Swift's show — and he got the gig!
In a viral TikTok, Perrigo was captured by hundreds of fans as he sang along to Swift's biggest hits.
Many fans were ready to offer Perrigo their hand in marriage after he went viral.
"I must know if Davis is looking for a gf," one fan commented on TikTok.
"Davis is setting my standards high," another wrote.
READ MORE: Taylor Swift Fans' Dad Dresses Up as Security Guard for Eras Tour
However, it turns out Perrigo is actually already married, and his wife supports him living his best Swiftie life.
"My wife jokes that I sing Taylor Swift songs with such passion for someone who's never been broken up with," Perrigo shared.
In another viral TikTok, one fan called him "the most adorable Swiftie security guard" who had "all the girls swooning all night."
Others declared that Perrigo resembles a young Ryan Reynolds... who, by the way, happens to be married to one of Swift's best friends, Blake Lively.
"What's Ryan Reynolds doing there," one fan joked.
"All I keep looking at is the Ryan Reynolds lookalike," another commented.
"I showed someone at work, like, 'Hey, this video got 10,000 views,' and then by that night, it was over 1 million. I was like, 'OMG, this is out of control,'" Perrigo told NewsChannel 5 of the viral videos.
Perrigo's creative approach to enjoying the Eras Tour didn't go unnoticed by Swift's team.
"I actually got reprimanded by Taylor's security, saying that I was going too hard and that I needed to take it down a notch," Perrigo revealed.
Still, "it really was a blessing that I didn't get tickets," he added.
Celebrities With Side Hustles