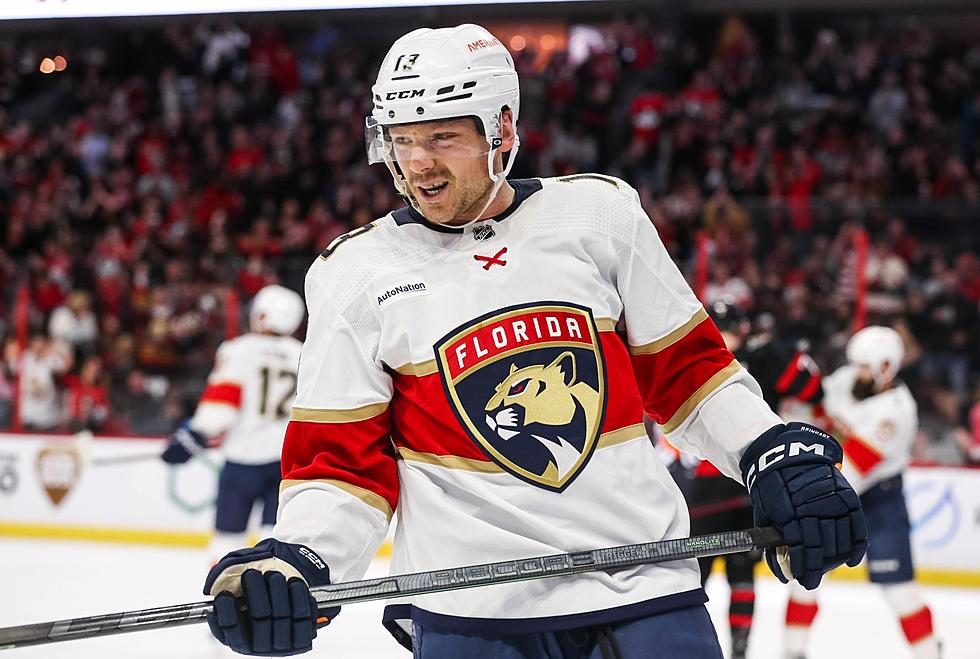 I LOVE The Alex DeBrincat Trade!
Getty Images
The Detroit Red Wings finally made the long-awaited acquisition of restricted free agent forward Alex DeBrincat on Sunday night.
The Wings sent forward Dominik Kubalik, minor league defenseman Donovan Sebrango and two future draft picks to the Ottawa Senators for DeBrincat (pictured above).
Detroit then signed DeBrincat, who is 25 years old, to a four-year contract worth $31.5 million.  His average annual value (AAV) will be just under $8 million per year.
Here's why I love the trade:
IT GIVES THE WINGS ANOTHER GOALSCORER
Detroit has improved their roster gradually since Steve Yzerman took over hockey operations.  But they have lacked the volume of goal scoring necessary to contend in the difficult Eastern Conference.  DeBrincat has scored 40 goals in a season twice in his career.  He helps the Wings immediately in that area.
IT IMPROVES THE FRONTLINE DEPTH
The Red Wings have relied on captain Dylan Larkin and his linemates for offense for far too long.  Acquring DeBrincat adds a big piece to the top 12 forwards, as did the recent signing of J.T. Compher (a former Michigan Wolverine).  They simply have more guys who can hurt the other team offensively than they did before July 1st.
IT DOESN'T HURT THE SALARY CAP
Even though DeBrincat counts almost $8 million per year on the cap.  The team is still well under the salary cap for the upcoming season.  According to capfriendly.com, the Wings are over $8 million under the cap even after getting DeBrincat.  That's important because they can still add on salary before training camp.  And...
THEY CAN STILL EXTEND RAYMOND & SEIDER NEXT OFF-SEASON
Forward Lucas Raymond and defenseman Moritz Seider are the top young players on the Wings right now.  And they're among their most indispensable players (especially Seider).  But both are restricted free agents next off-season and will command a big pay raise.
But with forward David Perron entering the final year of his deal, and a handful of other guys on one-year deals, not to mention about $4 million in dead money coming off the books next July 1st.  They can use that money to extend both Raymond and Seider.  They are a part of the present and future and Stevie Y must re-sign both of them.
AND FINALLY, THE DEBRINCAT SIGNINGS JUMPSTARTS THE REBUILD
With the trade-and-sign of Alex DeBrincat (and the free agent signing of J.T. Compher), the Red Wings have entered a new phase of the reconstruction of the franchise.  They are now adding on to the base that they have built with Larkin, Raymond, Seider, Jonatan Berggren, and Michael Rasmussen.  They are now ready to contend for a playoff berth next season.  And as we saw this spring, all you have to do is get in the playoffs to contend for the Stanley Cup (see the Florida Panthers).
Fans have been patient.  Now they to need to get rewarded.  It's time to win.
This Is What Could Be Holding Up Alex DeBrincat Trade To Detroit
Everyone around the NHL agrees — the Ottawa Senators should trade Alex DeBrincat to the Detroit Red Wings. It makes sense for everyone involved. But if that's true, why is it taking so long to actually happen?
More From The Game 730 WVFN-AM