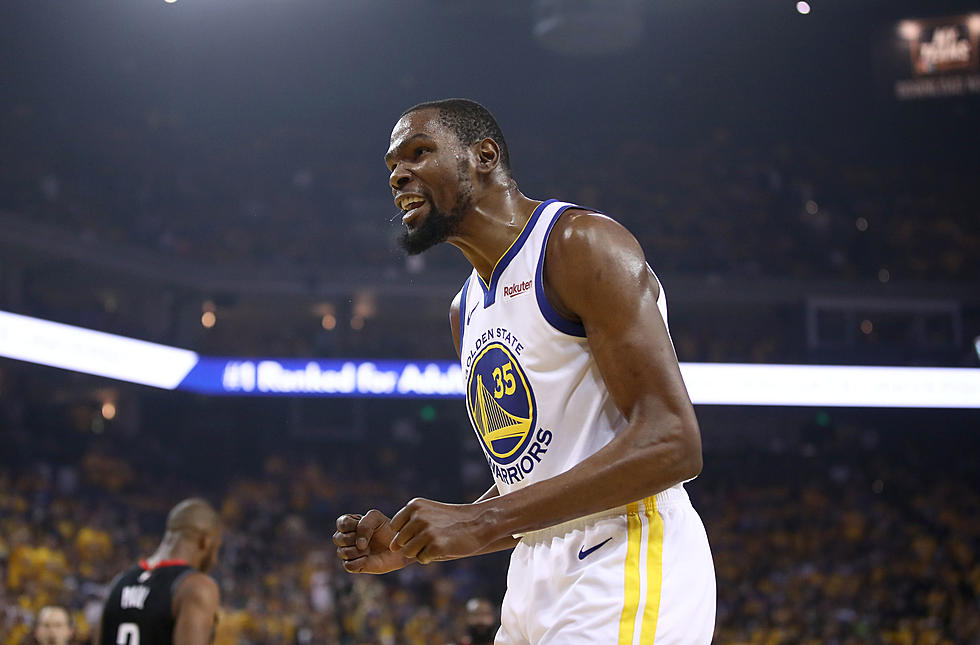 How Does Kevin Durant's Injury Affect Free Agency?
Ezra Shaw/Getty Images
After suffering a devastating Achilles injury in Game 5 of the Finals, Kevin Durant has a lot to think about these next few weeks.  For months, rumors have been brewing about Durant possibly leaving Golden State in free agency this summer with the front runner believed to be the New York Knicks.  Now here we stand with a broken Kevin Durant that could likely miss the entire 2019-2020 season. Will Durant want to carry as much of a load in New York with the chance of striking out on another star or will he take more money, a more stable front office, and significantly better teammates?  It seems like an easy choice, but Durant is searching for something money can't buy in this case: respect. After joining the 73-9 Warriors in 2016, Durant's reputation took a hit with many fans and peers around the league describing the move as "soft" and the "easy way out." Not only does this injury affect Durant's free agency aspirations, it could also change the outlook of other teams and free agent's plans as well.
Kevin Durant will have some choices to make in the next couple of weeks.  He has an option to either opt into his contract with the Warriors for $31.5 million to rehab and become a free agent next year, or he can opt out of his contract and become an unrestricted free agent, which is what many believe he will do.  How can this affect the entire landscape of free agency? Let's take a look:
How does this affect the New York Knicks?
The Knicks are still very confident that they will land KD.  Along with the Warriors, Clippers, Nets, Lakers, etc, they are expected to offer Durant a max-deal despite his potential season-ending injury going into next season.  The Knicks have been down this path before when they overpaid for Amar'e Stoudamire back in 2010 when he was battling a knee injury. Granted Durant is a much better player than Stoudamire, Achilles injuries are not easy to come back from.  Without Durant, I there is really no chance they can land Kyrie Irving or Kawhi Leonard. If they can't land Durant, look for the Knicks to go into panic mode and overpay for a second or third tier free agent. Sorry Knicks fans, but it's a possibility.
How does this affect Kyrie Irving?
Kyrie Irving has made it known that he wants to play with Kevin Durant.  With reports looming that Irving is leaning towards Brooklyn, he may not want to go there by himself.  This could cause Brooklyn to potentially sign D'Angelo Russell to that other max spot or look to trade for Anthony Davis to pair with Irving.  If Kyrie's desire is to play with another star, he could also look to reunite with LeBron in LA with them also being the frontrunners to land Davis via trade.  I believe that Irving wants to play with that other star, so going to Brooklyn by himself would put him in an even worse situation than the one he was in with Boston.  Doesn't make much sense to me but hey, leaving LeBron didn't either!
How does this affect the Warriors?
When Durant went down in Game 5, the chances of him staying with the Warriors increased slightly.  It is unlikely that Durant will opt into his contract, but the Warriors can offer him a new contract if he opts out.  Kevin Durant is 30 years old and isn't getting any younger. Would he really want to go to the Knicks if no other stars come with him?  The load he would have to carry could be too much coming off of an Achilles injury. The Warriors offer Durant more money, a better front office, better teammates, and a better chance to win.  Don't just assume Kevin Durant is a New Yorker just yet.
This was a very disappointing ending to the season for Durant and all basketball fans.  The injury will have a major impact on decisions that will be made this summer. Despite the injury, Durant will still be a top player in the league when he comes back.  Look for teams to go all in for KD and pay him whatever he wants. Buckle up basketball fans, we're in for a fun summer.
More From The Game 730 WVFN-AM