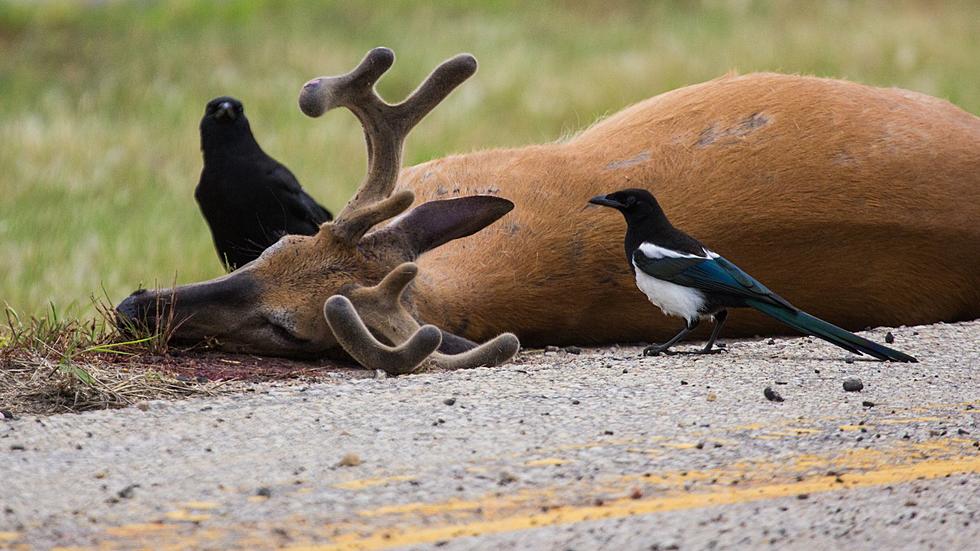 Grand Traverse County Doesn't Know What To Do With Their Roadkill
Canva
You'd think this would be a simple answer, but apparently it's more complicated than it should be up north. WHAT are the people of Grand Traverse County supposed to do about roadkill?
Previously, someone from the city, or county would pick up the road kill, put it in the back of a truck, and haul it off to a proper location to decompose. That's how the county has done it for years.
BUT, thanks to the Department of Natural Resources.. it's not that simple anymore.
There's LOTS of wildlife in Grand Traverse County, so it only seems logical that there's a fair amount of roadkill from passing traffic.
But recently, the Michigan DNR changed their policy on removing deer, and other animal carcases from the road in that county specifically. They proposed, instead of taking the animals to a proper location to decompose properly, residents simply drag dead deer into the ditch.
But as we mentioned, Grand Traverse County has a LOT of wildlife.
"Our folks from the DNR there, you know, we aren't talking about jut a couple of deer a month or anything. We're talking about nine plus deer instances that get called into our office per week. So we're close to 500 deer that we're dealing with every year." - Brad Kluczynski, Traverse County Road Commission Manager
That's a LOT of deer that could begin to stink, and attract more animals to the area, causing a larger hazard on the roads. But now, the DNR says there's no need to pick the roadkill up and take it elsewhere.
Lt. Joe Molnar, with the Michigan DNR said, ideally to him, the animal carcases can be left to decompose on the side of the road. "If it's not a safety concern, or a traffic hazard, then is there an issue with just leaving them decomposed?"
Residents, county employees, and State Representatives say "YES," there is. A letter was drafted by State Rep. John R. Roth to the Michigan DNR seeking clarity in their policies.
"Throughout the year, Michiganders often see roadkill during their travels, their commutes, and even when out for leisurely drives. Roadkill creates traffic hazards, draws in and threatens additional predatory and carnivorous animals, and is unpleasant to all...
I, along with my colleagues, believe that we should allow County Road Commission units to remove and dispose of roadkill. It is our believe that this will create a system in which roadkill is properly disposed of quickly and efficiently."
The full letter concludes, saying until the DNR clarifies their stances, and the procedure, the county will not handle ANY roadkill in any way, for fear of being fined. That letter was signed by 20 State Representatives.
Just my position on the topic... I tend to agree with the county and the Representative. I can see where the DNR is coming from, saying it's just the circle of life kind of stuff, and it should be just fine if it's left there... but it's different when you have to actually live around it.
Not to mention, Roth referenced a story he heard where an elderly woman in his district was told by DNR she would have to bury a dead deer into her yard. That simply shouldn't happen.
"We urge [The Michigan DNR] to reevaluate the current situation and work in conjunction with County Road Commissions to establish a more efficient way of removing roadkill."
Most Deadly/Dangerous Animals In Michigan
If you see any of these animals... best to just walk away.
Animals You Can Hunt All Year in Michigan
More From The Game 730 WVFN-AM