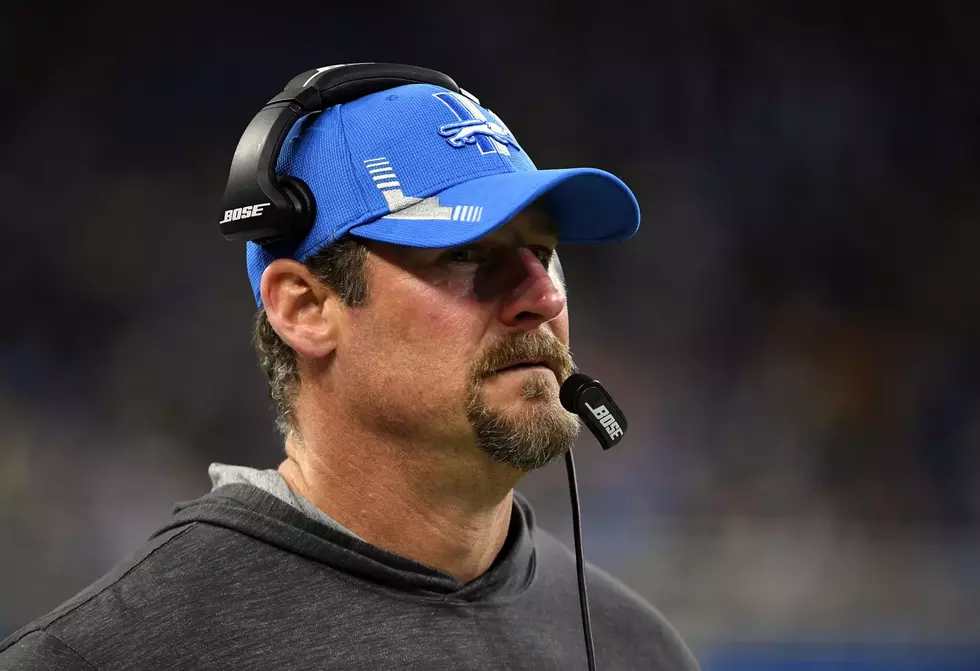 Dan Campbell Ain't Gettin' Fired This Season!
Getty Images
I was getting to ready to leave the station after another episode of "Staudt on Sports" on Monday, and I stumbled upon this article about the job status of second-year Detroit Lions head coach Dan Campbell (pictured above).
The headline stunned me:
"Betting odds have Lions head coach Dan Campbell as one of the most likely to be fired first this season"
I thought "Really???!!!"  I have a hard time believing that.  There are several reasons why that won't happen (barring an even worse season than the 3-13-1 2021 campaign).
1. HIS CONTRACT
Dan Campbell has five years left on his contract.  Remember, he signed a six-year deal to leave New Orleans as an assistant to come to Detroit to become a head coach.  If they lose again this season, they aren't going to pay him off for four more years to not coach them.  Especially since they're still paying off Bob Quinn and Matt Patricia for one more year for their train wreck.  Next..
2. THE FORD FAMILY IS LOYAL (TO A FAULT)
Even if the Lions go 6-11, 5-12, or even 3-13-1, they aren't getting rid of him after two years.  The Fords historically give their coaches time to right the ship (Lions coaches never right the ship, but go with me on this).  Sometimes too much time.  Remember Daryl Rogers?
3. WHAT IF THE LIONS ACTUALLY DO IMPROVE?
I'm not buying all the Detroit media propaganda talking up the team this offseason.  It doesn't matter if the team looks great at OTA's if the team sucks out loud during the regular season.
But if the Lions go 7-10 or 8-9, that will be considered big-time improvement to most fans.  And a majority of people will be happy with that.  Fans shouldn't expect a playoff berth in 2022 (hoping for a berth is much different that expecting a berth), but they want to see improvement.  Obvious improvement that you and I can see, not just the coaches.
AND NUMBER 4?
Unless they are even worse than last year...DAN CAMPBELL AIN'T GETTING FIRED THIS SEASON!!!  Do I make myself clear??!!  Seeing that headline on MLive irritated me.  HE AIN'T GETTING FIRED THIS SEASON!
The Detroit Lions Throughout The Years With Collector Items
Love 'em, or hate 'em, they're still the good old Detroit Lions. Take a look back in time with some collector's items from over the years and see how the Detroit Lions have evolved over the years.
More From The Game 730 WVFN-AM