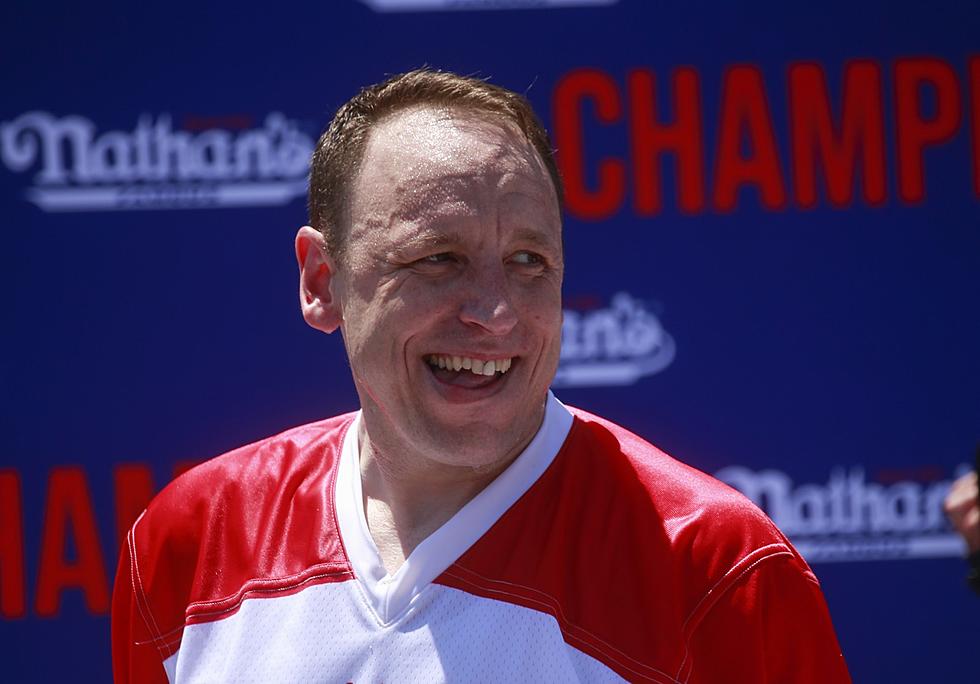 Getty Images
World Champion competitive eater Joey Chestnut made an appearance at Jackson Field in downtown Lansing on Thursday night as the Lansing Lugnuts hosted the Fort Wayne Tincaps in Midwest League action.
It was Thirsty Thursday at the ballpark.  And in honor of the 15-time (and current) Hot Dog eating champion, it was also $1 Hot Dog night.  Needless to say, the ballpark was jammed with people on Thursday night.  And not just to see a World Champion in person.
It was also Olive Burger night.  And before the game, Chestnut (pictured above) established a world record of 13 Olive Burgers eaten in five minutes.  He did so while standing on top of the visitors dugout along the third base line.  There had never been an official record for olive burgers eaten before Thursday night, according to the official federation of competitive eating (yes, there actually is one).  That would be the International Federation of Competitive Eating (IFOCE).
And while eating that much food in that short of period of time is impressive enough, that isn't what impressed me on Thursday night.
Chestnut arrived nearly two hours before game time (a little after 5:00pm) to visit with Lugnut management and the kitchen staff just to see how they made the olive burgers he was going to eat.  He could've big-timed everybody and just showed up right before the world record attempt and not talked to anybody.  And then he could've just hustled out of there after he set the world record to get back to his hotel or wherever he was staying and avoid the fans.
But no, he didn't do that.  He freely took hundreds of pictures with fans and signed just as many autographs.  He stayed to watch the entire game.  And he stayed well after the game (around 30 minutes after the last pitch) to take more pictures and sign more autographs for every fan that wanted one.
And he brought the world-famous Mustard Belt, too!  That's the belt he owns as the World Champion Hot Dog eater, which he's won 15 years in a row at Nathan's Hot Dog Stand at Coney Island in New York City.
That's all class all the way.  And according to Lugnuts personnel, he was very nice and outgoing to everybody that was there.
I didn't get my picture with Chestnut, the line for pictures and autographs was simply too long and I had to get out of there.  But he made a new fan just by being a nice person and not being a jerk.  Folks, it doesn't take much to be a nice person.  And Joey Chestnut seems to get it.
Bravo, Joey Chestnut!
Top 10 Foods You Can Eat At A Baseball Game
More From The Game 730 WVFN-AM