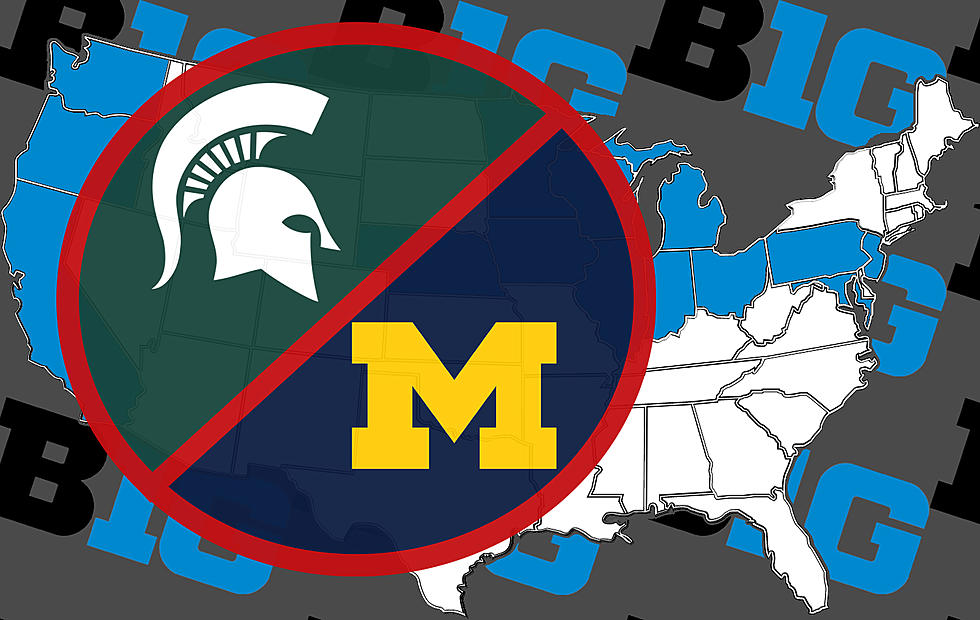 Bloated Big Ten Could Spell End Of Annual MSU-Michigan Football Rivalry
Canva
If you thought it was weird when Los Angeles was formally annexed into Big Ten Country, Friday must have seemed unreal.
The conference known for being the preeminent affiliation in the Midwest now spans from the edge of New York City to the entire Pacific Coast, as Oregon and Washington gives the Big Ten presences in every state along the nation's western continental edge.
So the Big Ten has resorbed the Pac-12, this time dealing the death blow to the former Conference of Champions. Media blowhards and fans alike are arguing about the rationale — or lack thereof — behind the move.
"The western seaboard doesn't belong in the Big Ten!"
"Oregon and Washington were inevitable after USC and UCLA!"
"How can we vilify players who change teams for richer NIL deal when entire institutions are abandoning eons of history and tradition at the first sign of a few more TV revenue sharing dollars?"
"Why complain about conference realignment when it's leading to better matchups?"
All good questions worth considering. But as I watched this wild scene unfold Thursday and Friday, witnessing the entire college sports landscape undergoing a second seismic shift within about 13 months, I couldn't help but feel like the lead was getting buried.
Or, the lead was getting buried at least in the corner of the college sports landscape where I reside.
Just a few weeks ago, the Big Ten released its conference football schedule for 2024 and 2025 after several months of painstaking work building a model that made sense for everyone involved. The system wasn't perfect, but it did seem to accomplish the primary objective of maintaining the rivalries that define college football within the league.
It wasn't an easy task. That's why the Big Ten had to come up with a solution where one size doesn't fit all. Somehow it did that and managed to still make everything work. We knew then that it was only going to be harder and harder to do within a conference that had recently added a pair of Los Angeles-based schools.
But now there are two newer additions, also from western locations that create logistical challenges. Worse than that, though, are the very real math problems that an 18-team league presents for scheduling.
Many speculated after its prior round of expansion that some of the Big Ten's rivalries would erode, a consequence of increasingly tricky scheduling. That didn't happen, thanks to the aforementioned MacGyvering by the conference. But as the league continues to expand, that becomes an even more difficult needle to thread.
An 18-team league, whose expansion has commenced college sports' inevitable march toward super conference consolidation, makes protecting all of the history, traditions, and rivalries of its time-honored members damn near impossible.
As the Big Ten's ranks continue to bloat, it's increasingly likely that each of its teams will have room for just one protected rivalry in football. Think about what that means in our part of the world. Michigan and Ohio State will, of course, pair up, making MSU vs. U-M a game that happens only once every several seasons.
MSU, U-M, fans, and the general economy of the state of Michigan aren't the only ones who will suffer this kind of fate. Ohio State vs. Penn State has become one of the best games in the entire sport in recent years. That's probably losing its annual status, too.
Could the Big Ten catch lightning in a bottle twice and find a way to guarantee these rivalries continue on a yearly basis? I suppose it could. But with TV revenue driving the bus, college football's sacred traditions aren't exactly the top consideration among the decision makers.
I don't deny the tremendous value the Big Ten gets in bringing Oregon and Washington into the fold. The economic reality of the situation is unmistakable. But aside from that, the league just added a couple of programs that every other conference in the country would love to have. I'm also not one of those people who resist change just for the sake of resisting change. This sport has sacrificed cherished traditions at the altar of TV revenue before, and yet our interest and consumption of the product have never been higher. I'm sure we'll continue to patronize it through these most recent changes and the ones yet to come, too.
I just wonder how recognizable college sports — college football, in particular — will be in the coming years. The tradition, history, rivalries and attendant pageantry are what make college football different from the NFL. And yet it seems as though the administrators, athletic directors, and university presidents/chancellors can't NFL-ify college football fast enough.
Most of what's been and continues happening to college sports seems counterintuitive. Almost none of it is in the best interest of college sports, aside from the contemporary balance sheets and bottom lines. That hasn't stopped incredibly sudden and wide-ranging changes from being abruptly adopted, though, with nary a voice asking whether any of it is the least bit sustainable.
I don't know if it'll work. I just hope the people making the decisions know what they're doing.
How TV Networks Are Ruining College Sports
As major college sports sells off the final bits and pieces of its dignity and soul, the industry is growing more and more unrecognizable to longtime fans. The never-ending drive for added revenue and new revenue streams has given TV networks hegemony over college sports the likes of which we've simply never seen. It's good for business, but hardly ever good for anyone else.
7 Hot Takes On Michigan State Moving Its Home Game Versus Penn State Away From Spartan Stadium To Ford Field In Detroit
There's a whole hell of a lot to hate about Michigan State's choice to give away a home game and move its contest with Penn State to Ford Field in Detroit, but we've distilled it all down to seven solid gripes.
More From The Game 730 WVFN-AM