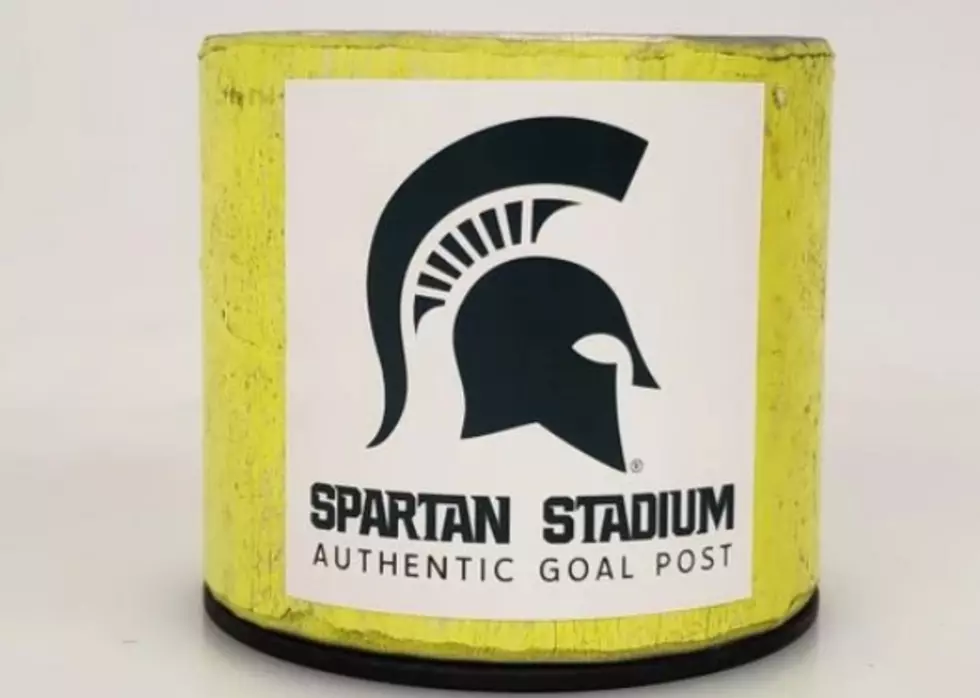 5 Unique Father's Day Gift Ideas for Dads Who Love Michigan State
Photo courtesy of MSU Surplus Store
Here's a friendly reminder for you that Father's Day is coming up on Sunday, June 21st. If your dad is a big Michigan State fan and he's hard to shop for because it seems like he owns every piece of MSU memorabilia ever made, here's some gift ideas that might help you get something he doesn't already have and something he'll really like.
First, there are a TON of really unique Michigan State items that are for sale online at the MSU Surplus Store. They started curbside pickup this week, too, so that will make it easier for you to pick up your items. Did you know that at the MSU Surplus Store, you can buy a vintage turnstile that was used at the Breslin Center? (Bet your dad doesn't have one of those...) I should warn you, though, that the turnstile ain't cheap. It'll set you back $475. But, I mean, it's your dad and he really loves Michigan State, so...
Another cool item that they have for sale at the MSU Surplus Store is a MSU Spartan Stadium Field Goal Post Cup. It's a cup holder that's made out of a piece of game used goal post from Spartan Stadium. It even comes with authentication sticker. It's a little cheaper than the turnstile as it's priced at $75.
If your dad loves the MSU band, they've even got a Spartan Marching Band Pilllow for sale. They say the pillows are a "limited edition collector's items that are created out of retired MSU Spartan Marching Band uniforms." A cool thing about the pillows is that all proceeds from the sale will go back to the Spartan Marching Band to support future uniform purchases. The pillow costs $45.
If your dad is a big MSU basketball fan, you could buy him some of the basketball court that was originally part of the RCA Dome in Indianapolis, Indiana. That's where the 2000 NCAA Men's Basketball national semifinals and championship games were played.  And that's when Michigan State University beat Florida to win the national title. A  9" x 9" section will cost you $50.
Enter your number to get our free mobile app
They've got LOTS of banners for sale at the MSU Surplus Store, too. Your dad could hang a 2013 Big 10 Conference Champions banner, or a 2015 Cotton Bowl Champions banner, or even a 2014 Rose Bowl Champions banner on his wall. Just keep in mind that the Rose Bowl banner is gonna cost you a whopping $1,200.
Click here to see all the other great items that they have available at the MSU Surplus Store that's located 468 Green Way in East Lansing. You can also find out more about their curbside pickup by clicking here.
SEE MORE: Any True Lansingite Will Recognize These Landmarks Instantly
More From The Game 730 WVFN-AM