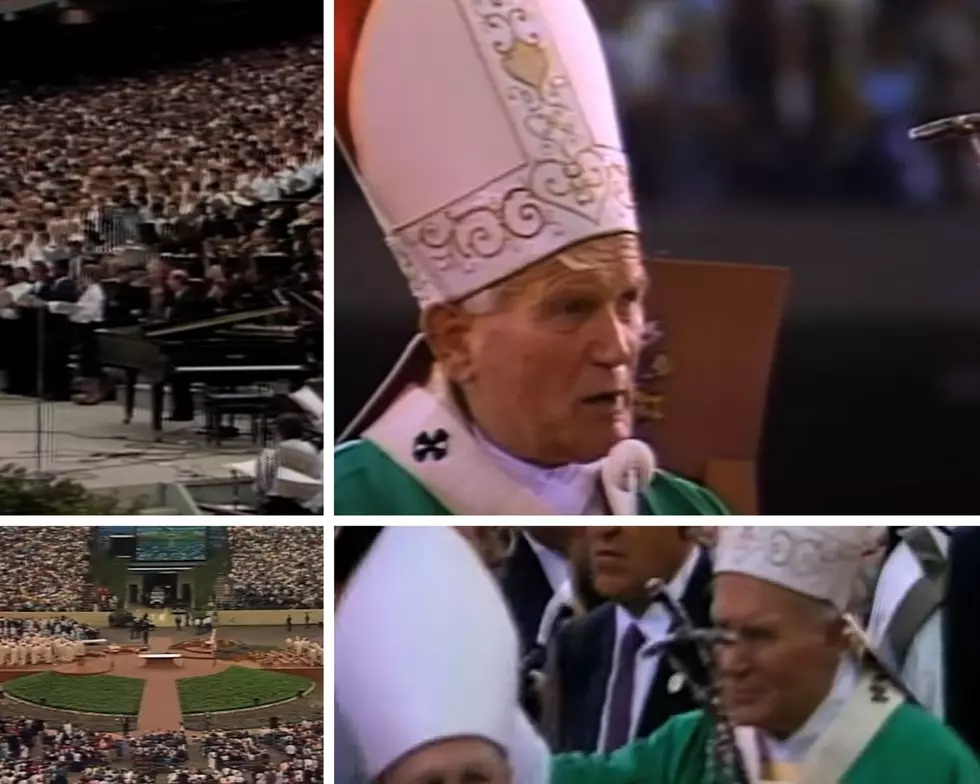 35 Years Ago, The Day Pope John Paul II Took Down Hulk Hogan
Archdiocese of Detroit via YouTube/Canva
The Hulkster and his cohorts were the kings of the Pontiac Silverdome, until the Pope put him into an attendance chokehold.
In March of 1987, the third Wrestlemania attracted  93,137 fans to the Pontiac Silverdome. That was a record until September 19 of that same year.
That's when one of the most popular Pontiffs of all time, Pope John Paul II said Mass at the now obsolete stadium to 93,632 Catholic faithful, to put a chokehold on the attendance record. That record would stand as the biggest ever at the Silverdome, until its death by demolition explosives in late 2017.
John Paul passed away in Rome in 2005. He was canonized as a Catholic saint in 2017, the same year the Silverdome fell.
The difference between the two crowds, similar in size, could not have been more different.
In March, when Hulk Hogan scooped slammed the massive 525-pund Andre the Giant to retain his World Wrestling Federation (WWF, now known as the WWE) Heavyweight title, the raucous crowd was loud and very rowdy.
By contrast, the Catholic faithful who turned out to take communion with the Pope in September were respectful and quiet, offering only polite clapping at John Paul's initial appearance, before erupting in a huge applause at the event's conclusion.
Pope John Paul II would go one to set the all time indoor event record, nearly 12 years later in January 27, 1999 when 104,000 turned out at St. Louis' TWA Dome to hear the pontiff offer Mass.
The Silverdome record was disputed by WWF officials, who felt their crowd was slightly larger than they were given credit for, but the official Silverdome record remained with the pontiff until the facility's bitter end.
Re-Surfaced Fan Photos From WrestleMania 3 At The Pontiac Silverdome
On March 29th, 1987 history was made as 93,173 people jam packed the Pontiac Silverdome in Pontiac, MI to watch one of the most major shifts in sports entertainment history. Here are some recently surfaced fan photos from that day.
More From The Game 730 WVFN-AM